Happening Now
Is investing in the future really a "risk"?
Written By Colin Leach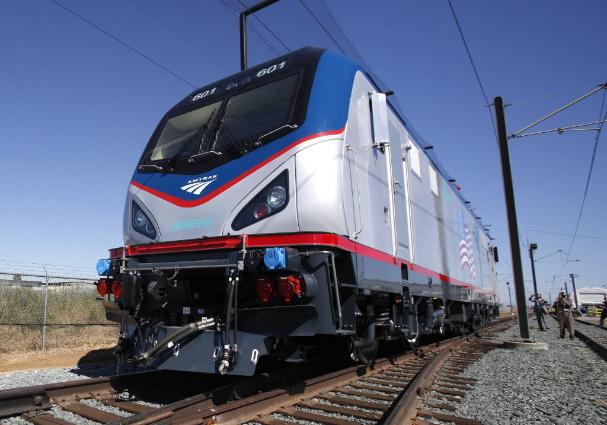 A recent article in Bloomberg contended that Amtrak may be wasting hundreds of millions of dollars on "equipment it doesn't need"and runs the risk of requiring further federal subsidies. These concerns, voiced in Amtrak's Inspector General's May 28th report on fleet planning practices, stem from the railroad's purported lack of a "disciplined process to analyze its equipment needs in a manner consistent with sound businesses practice."
Lack of such a process has, according to the Inspector General, caused Amtrak to acquire equipment without reference to actual ridership demand. Particularly concerning are Amtrak's acquisition of the new Siemens ACS-64 Cities Sprinter electric locomotives for service in the Northeast and Keystone Corridors, as well as the purchase of 130 new single-level Viewliner cars. While Amtrak stated that the new acquisitions would allow them to offer more services, the report maintained that the "necessary cost analysis has not been completed" and that Amtrak should not assume that scheduling more trains would generate enough revenue to cover new maintenance costs.
What does the report recommend instead? Instead of purchasing 70 ACS-64s to replace the older AEM-7ACs and AEM-7DCs and the younger HHP-8s, the report suggested that Amtrak should upgrade the HHP-8s to improve their reliability and extend their service life. Rather than acquiring the 130 new Viewliners, Amtrak should instead refurbish the 50+ year old Heritage Fleet cars and retain them in service.
In his reply [appended to the OIG report], Amtrak President Joseph Boardman broadly agreed with the report's recommendations for implementing a more systematic planning process for fleet acquisition, but took issue with the report's conclusions concerning the new Siemens locomotives.
The report's assertion that only 56 electric locomotives (6 fewer than currently operated) are necessary to ensure reliable Corridor operations was based on a study of traffic on a typical non-peak Friday and, as such, leaves the railroad with an "inability to deal with unexpected contingencies." Ordering 70 locomotives gives Amtrak the ability to cope with peak holiday demand as well as planning for growth in everyday demand. Boardman also suggested that the report did not consider Amtrak's "long-term interest" in replacing the three classes of locomotive with one standard design, a move that would produce cost savings in training, staffing, and maintenance.
Concerning the proposal to rehabilitate the Heritage Fleet cars, Boardman said that the report did not consider the success of bothTalgo and Acela equipment in generating new ridership in the Pacific Northwest and the Northeast Corridor. While Amtrak considers equipment age as only one factor in the acquisition process, there nevertheless remains a strong correlation between new equipment and "prolonged periods of ridership and growth."
At a time when more and more Americans are looking for alternatives to their cars, and when Amtrak ridership numbers are at all time highs, is it prudent to label the acquisition of sorely needed new equipment as unnecessary? Doing so assumes that more passengers can be adequately serviced with existing equipment rosters, which, as Amtrak's most recent Fleet Strategy suggests, is an untenable proposition. Short term increases in capacity have thus far been met by returning "stored and wrecked" equipment to service. In the long term, however, it is extremely unlikely that Amtrak will be unable to meet even natural growth in demand without the acquisition of additional equipment.
Applying a strict cost analysis to Amtrak's fleet acquisitions, as the Inspector General's report does, is penny wise but ultimately pound foolish. After 40 years of insufficient investment in passenger trains, Amtrak must move quickly to meed the soaring public demand. Amtrak's fleet plan has laid out a sensible blueprint for providing additional capacity. But unless necessary investments are made soon, the robust multimodal transportation system so desired by Americans will never become a reality.
"It is an honor to be recognized by the Rail Passengers Association for my efforts to strengthen and expand America's passenger rail. Golden spikes were once used by railroads to mark the completion of important rail projects, so I am truly grateful to receive the Golden Spike Award as a way to mark the end of a career that I've spent fighting to invest in our country's rail system. As Chair of the Transportation and Infrastructure Committee, it has been my priority to bolster funding for Amtrak, increase and expand routes, look to the future by supporting high-speed projects, and improve safety, culminating in $66 billion in new funding in the Bipartisan infrastructure Law."
Representative Peter DeFazio (OR-04)
March 30, 2022, on receiving the Association's Golden Spike Award for his years of dedication and commitment to passenger rail.