Happening Now
"If You Build It, They Will Come"
December 13, 2018
"Shoeless" Joe Takes The Train
by Joe Aiello | Northeast Field Coordinator
"Hey… Dad? Wanna have a catch?"
Who doesn't love Field of Dreams? That scene gets me every time. I can just THINK of that scene and I get misty eyed.
……..
Sorry.

We are here to talk about trains and not emotional Kevin Costner movies from the 1990s (we can save that for a later blog).

Back in October, Abe & I had the opportunity to head to New Haven, CT and take a tour of the new Hartford Line and to see some of the development that is being built thanks to the project. We were treated to an amazing personal tour led by ConnDOT Public Transit Administrator Carl Jackson and Assistant Rail Administrator Richard Jankovich. We really felt like they rolled out the red carpet for us. After a short walk around New Haven Union Station, we all hopped on a northbound Hartford Line train and headed for Meriden, CT.
Now, if you know me - you know that I'm a big fan of transit-oriented development and Meriden has it in spades. Over $150M in private investment went into the city before a single new train came through. There are three new mixed-use buildings with nearly 300 units of housing, over 30,000 sq ft of commercial/retail space, and a 14-acre public park (with walking paths and an outdoor concert/movie space) - all within a half-mile walk of the train station. Similar projects are happening in North Haven, Wallingford, and Windsor (just to name a few).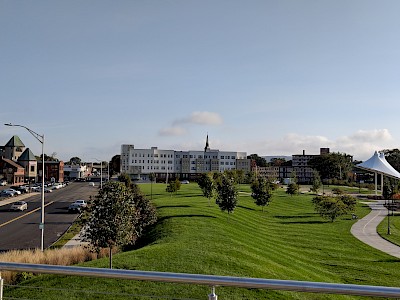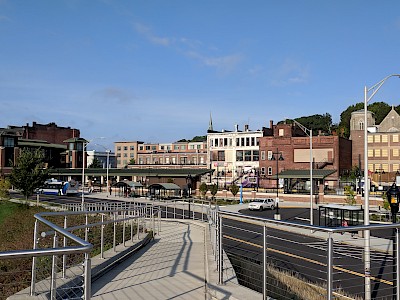 I haven't even mentioned the beautiful new Meriden station! Easy access, multimodal connections with bike parking and a local bus hub - not to mention the heated coil platforms to help keep things moving in the dead of winter.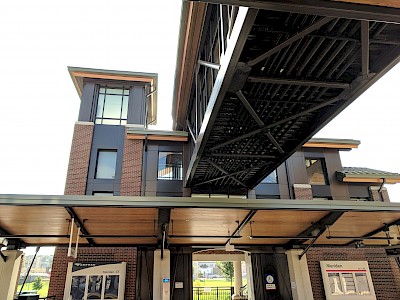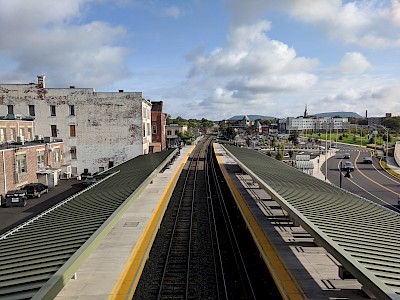 After returning to New Haven, we were able to sit down with Richard Andreski, Bureau Chief for ConnDOT's Bureau of Public Transportation to talk about the path they took to get this project off the ground and what the future will hold for the Hartford Line. This included discussion on the RFP process for fleet procurement - could you imagine what a bunch of high-frequency "euro-style" electric train sets would do for this corridor?
The Hartford Line should be a model for commuter rail expansion around the country, a first step towards regional "rapid rail," instead of old fashioned commuter service catering to the 9-5 crowd. (Find out more about a policy path for a transition like that, outlined in our authorization request). There were some bumps and bruises along the way because it's a new concept in this country- growing pains happen in all walks of life, especially when you're doing something new in the eyes of the Federal Railroad Administration - but they prevailed, and the future is so very bright for our friends at ConnDOT, CTRail, and - of course - for the passengers themselves.
"Is this heaven?"
"No, it's Connecticut."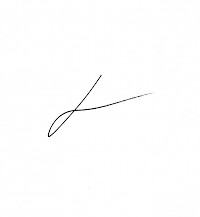 "On behalf of Amtrak's onboard service staff, I want to thank the Rail Passengers Association for honoring their hard work with this award. The past couple years have indeed been difficult for Amtrak onboard service staff – coping with furloughs and job insecurity, adapting to changing protocols and services, not to mention the unfortunate events such as a tragic derailment and a fatal shooting. Nevertheless, our dedicated members at Amtrak have handled these hurdles with the care, attention and diligence for which they're known. We thank Rail Passengers for their acknowledgement of our members' hard work and, as always, look forward to seeing you on the rails."
Arthur Maratea, TCU/IAM National President
December 21, 2021, on the Association awarding its 2021 Golden Spike Award to the Frontline Amtrak Employees.