Happening Now
I agree with you, I want to do it, now make me do it.
Written By Sean Jeans Gail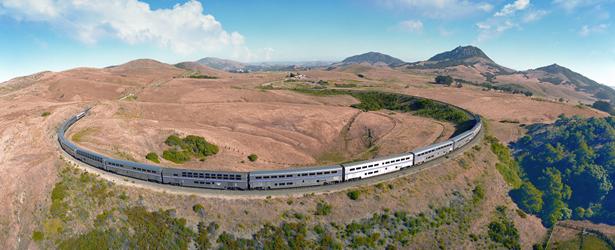 Image courtesy USA Today
On Tuesday, the Obama Administration released details about a $302 billion transportation package that includes $19 billion over four years for passenger trains. The proposal also includes $72 billion for transit over four years—a 70% increase over current levels—that will fund commuter rail systems, streetcars, and light rail lines across the U.S. The President's transportation plan is paid for through corporate tax reform—a principle that is being supported by leading Republicans.
The President has offered a fantastic framework, moving passenger rail funding from year-to-year appropriation battles to a dedicated, guaranteed source of funding; this will allow Amtrak and states to do multi-year planning. While the numbers are lower than last year's budget request, the priorities are right on, striking the right balance between maintaining and upgrading existing infrastructure, strengthening the national network, and allowing states to develop high speed rail. The amount of money identified for long distance trains even improved to $850 million per year—a $50 million increase!
NARP is asking Congress to enact these good ideas. We're also asking them to provide even more funding, because that is what is needed to bring U.S. passenger rail into the 21st Century.
"I agree with you, I want to do it, now make me do it." It's a line attributed to Franklin Delano Roosevelt, and it's a recognition that in democracies change happens from the bottom up. We know President Obama understands the value of trains. Now it's up to America's passengers to make sure Congress turns these values into law.
Tell your Member of Congress to make this proposal a reality!
A Breakdown of the White House Budget Proposal for Passenger Rail – Fiscal Year 2015
Current Passenger Rail Service – $2.45 billion
This program will make grants to ensure passenger rail assets are maintained to provide safe reliable life-cycle service, as well as to continue operating long-distance train services. A significant portion will be dedicated to "Fix-it-First" activities, such as clearing the backlog of state of good repair needs on the Nation's rail system.
This program consists of five areas:
Northeast Corridor – $550 million to bring Northeast Corridor infrastructure and equipment into a state of good repair, thus enabling future growth and service improvement.
State Corridors – $225 million to replace obsolete equipment on State-supported corridors and to facilitate efficient transition to financial control for these corridors to States. This program area is temporary, and will be phased out by FY 2018 as these transitional activities are completed.
Long-Distance Routes – $850 million to continue operations of the Nation's important long-distance routes.
National Assets, Legacy Debt, and Amtrak Positive Train Control – $475 million to improve efficiency of the Nation's "backbone" rail facilities, make payments on Amtrak's legacy debt, and implement Positive Train Control (PTC) on Amtrak routes.
Stations – American's with Disabilities Act (ADA) Compliance – $350 million to bring stations into compliance with requirements of the ADA. This program area is temporary, and will be phased out by FY 2018 as these transitional activities are completed.
Rail Service Improvement Program – $2.325 billion
This program will make grants to develop high performance rail networks throughout the U.S.; to fund Positive Train Control for commuter railroads; and to support network planning and workforce development.
This program consists of four areas:
Passenger Corridors – $1.3 billion to develop high-performance rail networks through construction of new corridors, substantial improvements to existing corridors, and mitigation of passenger train congestion at critical "chokepoints."
Commuter Railroads Positive Train Control (PTC) Compliance – $825 million to implement PTC systems on commuter railroads. This program area is temporary, and will be phased out by FY 2018 as these transitional activities are completed.
Local Rail Facilities and Safety – $125 million to help mitigate the impact of rail in local communities through rail line relocation, grade crossing enhancements, and investments in short line railroad infrastructure.
Planning and Workforce – $75 million to develop comprehensive plans that will guide future investments in the Nation's rail system and to develop the workforce and technology necessary for advancing America's rail industry.
"It is an honor to be recognized by the Rail Passengers Association for my efforts to strengthen and expand America's passenger rail. Golden spikes were once used by railroads to mark the completion of important rail projects, so I am truly grateful to receive the Golden Spike Award as a way to mark the end of a career that I've spent fighting to invest in our country's rail system. As Chair of the Transportation and Infrastructure Committee, it has been my priority to bolster funding for Amtrak, increase and expand routes, look to the future by supporting high-speed projects, and improve safety, culminating in $66 billion in new funding in the Bipartisan infrastructure Law."
Representative Peter DeFazio (OR-04)
March 30, 2022, on receiving the Association's Golden Spike Award for his years of dedication and commitment to passenger rail.