Happening Now
Hoosier State Train On the Brink
Written By Ross Capon
Bad things happen when a train dies.
Communities depending on the service loose their connection to the world around them.
Men and women who support themselves and their families working on the train lose their livelihood.
And it can happen quickly. A blink of an eye compared to the decades it took to build up the service, maintain and improve the stations and the equipment, build up a loyal ridership.
But if Indiana Governor Mike Pence fails to provide needed financial support, the Hoosier State is going to die.
It's not too late.
Following implementation of Section 209 of the Passenger Rail Investment & Improvement Act, funding the operation of routes less than 750 miles long was uniformly shifted from the federal to the state governments. Of the 19 states currently negotiating with Amtrak, it appears likely that 18 will meet the October 1 deadline to reach an agreement with the railroad to continue service. Indiana is the one holdout.
We've known the Hoosier State was in trouble for awhile, and NARP has been organizing and aiding a grassroots campaign to save the train. We asked Indiana members to speak to their local mayors, state legislators, and Governor Pence. NARP asked Midwestern passengers to attend the Lafayette Passenger Rail Summit, a meeting of over 250 mayors, city planners, economic development agencies, state department of transportation representatives, railroad officials, manufacturing heads, and other attendees from both inside and outside Indiana—all gathered in support of the Hoosier State. The people are on board, but Governor Pence and Indiana Department of Transportation still don't get it.
If the Hoosier State goes, Indianapolis, Crawfordsville, Lafayette, Rensselaer and Dyer will lose daily train service at the end of this month. We have one last chance to avert this disaster. Indiana Members can use our website to send a message to Governor Pence and INDOT Chief of Staff Troy Woodruff. If you live outside of Indiana, or have already sent a message, please follow up with a phone call:
Gov. Mike Pence: (317) 232-4567
Mr. Troy Woodruff, INDOT: (317) 232-5523
I don't know what will happen. But I know we must not let them kill this train without a fight. Thank you for your support of NARP, and our work for a modern, customer-focused national passenger train network that provides a travel choice Americans want.
Sincerely,
Ross Capon
President
NARP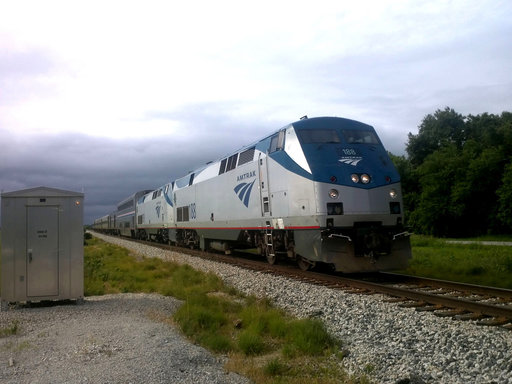 "It is an honor to be recognized by the Rail Passengers Association for my efforts to strengthen and expand America's passenger rail. Golden spikes were once used by railroads to mark the completion of important rail projects, so I am truly grateful to receive the Golden Spike Award as a way to mark the end of a career that I've spent fighting to invest in our country's rail system. As Chair of the Transportation and Infrastructure Committee, it has been my priority to bolster funding for Amtrak, increase and expand routes, look to the future by supporting high-speed projects, and improve safety, culminating in $66 billion in new funding in the Bipartisan infrastructure Law."
Representative Peter DeFazio (OR-04)
March 30, 2022, on receiving the Association's Golden Spike Award for his years of dedication and commitment to passenger rail.