Happening Now
Hoosier State must be saved before service can be improved
Written By Malcolm Kenton
Dave Bangert's column in this morning's Lafayette (Indiana) Journal-Courier, while sympathetic to the cause of improving service on the Chicago-Indianapolis corridor, misses the point about why passenger advocates are fighting to preserve the existing Hoosier State service. It's not sepia-toned nostalgia that motivates the Save the Hoosier State movement; it's the simple fact that if the Hoosier State disappears, it becomes ten times more difficult to get better service on this important part of the Chicago Hub passenger train network.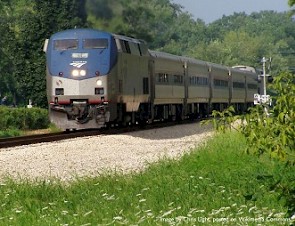 We can all agree that the existing level of service on the corridor—one round-trip a day that takes five hours end-to-end and is plagued by routine delays over congested mostly single-track host railroads—is far from ideal. However, as train advocates have learned the hard way time and again, once you lose a passenger train service, there are many expensive hurdles to clear before it can be restored. As imperfect as it is, the existing Hoosier State serves as a necessary baseline off of which to build a quicker, more convenient and attractive train service.
When Purdue University students board the Hoosier State orCardinal to head to Chicago, it's not nostalgia that motivates them to ride; it's the need for basic transportation. Many students don't have cars—they aren't necessary in their daily lives—and bus service between Lafayette and Chicago is very limited, plus the train is inexpensive. That will continue to be the case even if the Hoosier Stateremains as-is, and even if it disappears, students will still use the tri-weekly Cardinal to get to and from Chicago (though seats will be harder to come by, as more of them will be taken by passengers going to or from points east of Indianapolis).
But over time, if the Hoosier State is lost, Lafayette will feel the impact as fewer students choose to attend Purdue because it lacks an easy, reliable way to get to Chicago and its airports without a car. Cities and towns that make a car-lite lifestyle possible are already the "it" places for students and young professionals to be, and this trend will only continue as gas prices continue their upward trajectory for the foreseeable future.
If track upgrades are made that cut the trip time and enhance reliability, and additional train frequencies are added, passenger trains' ability to bring economic activity to on-route communities will be fully realized, and Lafayette will become even more attractive to students and young professionals. But such improvements are virtually guaranteed not to happen, at least not within a meaningful time frame, if the Indiana Department of Transportation shortsightedly lets the Hoosier State die for not wanting to support a sub-standard service. All the improvements that the train's riders and supporters seek will only come to pass if INDOT is willing to work with Amtrak as a partner, like the state DOT's in neighboring Michiganand Illinois have done with great success. Such a partnership can only be formed with maintaining theHoosier State as its centerpiece. Once a partnership is established, INDOT will have the ability to do things like add food service and install WiFi on the trains.
The $3 million annual grant required to keep the Hoosier State going is a drop in the bucket in terms of transportation spending. A major highway interchange costs 50 times more than that to build. But this relatively small investment preserves a lifeline that serves an entire corridor and is a pedestal on which to build a modern train service that will reshape the region in many positive ways for decades to come.
Let's not throw the baby out with the bathwater. Hoosiers: Tell INDOT to immediately commit $3 millionto operate the Hoosier State through fiscal 2014.
Image by Chris Light/Wikimedia Commons, by way of the Indiana High Speed Rail Association.
"We would not be in the position we're in if it weren't for the advocacy of so many of you, over a long period of time, who have believed in passenger rail, and believe that passenger rail should really be a part of America's intermodal transportation system."
Secretary Ray LaHood, U.S. Department of Transportation
2011 Spring Council Meeting