Happening Now
GAO's Report On Air-Rail Connectivity Ignores Connectivity
Written By Colin Leach, Abe Zumwalt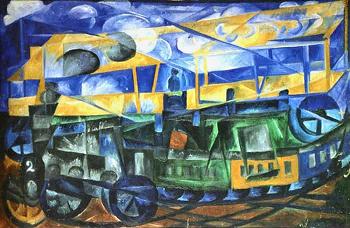 Transportation advocates have long spoken of the benefits of multimodal connectivity that allows passengers to easily transfer through different modes. Whether linking local and regional bus services with commuter rail, or intercity rail with light rail and subway transit, transportation planners look for ways to increase the number of seamless connections.
This is why many transportation officials favor connecting rail services to airports. By doing so, they create another option for air travelers to arrive at the airport without having to use their personal cars. Additionally, by offering a variety of long-distance and commuter rail options, arriving passengers can quickly continue on to their final destination without the hassle of slower bus services or the expense of renting a car.
But if the Government Accountability Office's newest report is to be believed, air-rail connectivity doesn't provide its advertised benefits. At the three locations studied—Baltimore-Washington International Airport, Newark Liberty, and Bob Hope International in Burbank—only 1-3% of airline passengers use intercity rail to access the airport. Consequently, the report suggested that the "high potential costs" of such air-rail connections justify them only in a few places. Writing for Atlantic Cities, Eric Jaffe notes that the problems facing air-rail connections are essentially "the same ones preventing the expansion of America's passenger train network at large."
While we would not dispute the reliability of the GAO's statistics, we must nevertheless call into question the applicability of their model. By focusing exclusively on intercity rail service, the GAO report creates an analytical framework that is necessarily skewed against the benefits of passenger rail as a whole. The fact that airline passengers rarely utilize intercity rail connections to continue their journeys does not mean trains don't have an important role to play in connecting airports. Airports such as Providence, Portland, Philadelphia, Chicago, Cleveland, San Francisco, St. Louis, and many others rely exclusively on commuter and light rail for their rail connections. In some cases, such as Providence and Philadelphia, commuter lines serving the airport allow passengers to connect to intercity trains. GAO's focus on intercity services is a one-sided approach to the problem, and does not fully comprehend the interconnected nature of transportation networks.
Rather than myopically blaming commuter rail for lowering intercity rail average speeds relative to other transportation modes, the GAO should recognize what rail advocates have long understood: intercity passenger rail cannot exist in isolation from local commuter services, and vice versa. The compartmentalization of different types of rail services is a common misunderstanding of how they best function; as an interconnected system.
To prove the above point, let's use a European example. Jaffe's article observes that Europe has led the way in building air-rail connectivity, and Paris's Charles de Gaulle Airport is no exception. First opened in 1976, the airport's station hosts both local Regional Express Network (RER) trains and long-distance high speed TGVs, which link the airport to urban centers such as Lyon, Bordeaux, Toulouse, and Marseilles. Despite the plethora of options available to travelers, the majority continue to use local trains. Of the nine million passengers that used the airport's station in 2011, roughly six million used the RER. Although three million passengers utilizing high speed services lends the appearance of extreme popularity, the percentages are nevertheless telling. If two thirds of Parisian air-rail travelers use regional trains instead of high speed intercity services, why would it be expected that Americans would buck the trend?
The GAO selected BWI Airport Station as an example of air-rail connectivity's limited utility, noting that only 2% of passengers continue via rail. But what is not accounted for in this analysis is commuter service provided by MARC. MARC, whose Penn Line serves the airport and runs between Perryville, Maryland and Washington, D.C., supplements Amtrak's service and offers connections to intermediate locations not served by intercity Amtrak trains.
MARC connections are necessary for passengers that would wish to travel to destinations outside the Northeast. The majority of Amtrak services calling at BWI are Northeast Regionals. Air passengers who would wish to continue by train to points south on the Carolinian, Silver Star, Silver Meteor, or Palmetto must first get to Washington to continue on with their journey. Additionally, as the Cardinal does not call at BWI, passengers wishing to go to Pittsburgh, Cleveland, Cincinnati or other points west must again change at Washington. GAO's report thus performs the curious task of writing off the viability of air-rail connectivity without acknowledging that connectivity is limited—and then declaring expansion of intercity passenger rail to be a "less feasible option" for improving connectivity!
Ironically, GAO's analysis of air-rail connectivity ignores the very principle it analyzes. Treating intercity passenger rail service in isolation and wrongly blaming commuter rail for hindering the growth of intercity passenger rail traffic, unfairly marginalizes the benefits of air-rail connectivity. But by taking a step back and recognizing the role that all forms of rail have to play in integrated transportation solutions, and the ways in which intercity and commuter services complement each other, we can see that the benefits of air-rail connectivity are far more diverse and expansive than envisioned.
"On behalf of Amtrak's onboard service staff, I want to thank the Rail Passengers Association for honoring their hard work with this award. The past couple years have indeed been difficult for Amtrak onboard service staff – coping with furloughs and job insecurity, adapting to changing protocols and services, not to mention the unfortunate events such as a tragic derailment and a fatal shooting. Nevertheless, our dedicated members at Amtrak have handled these hurdles with the care, attention and diligence for which they're known. We thank Rail Passengers for their acknowledgement of our members' hard work and, as always, look forward to seeing you on the rails."
Arthur Maratea, TCU/IAM National President
December 21, 2021, on the Association awarding its 2021 Golden Spike Award to the Frontline Amtrak Employees.