Happening Now
From the RIARP Blog: May Amtrak Report
Today we are featuring a blog post from the Rhode Island Association of Railroad Passengers. This post was originally published July 10, 2014 on the RIARP blog. Steve Musen, NARP Council Member, reviews Amtrak's reports each month, and more of his posts can be found on the RIARP blog. (This piece reflects the opinions of the writer and not necessarily of NARP or RIARP.)
Steve Musen, NARP Council Member, wrote:
May Amtrak Report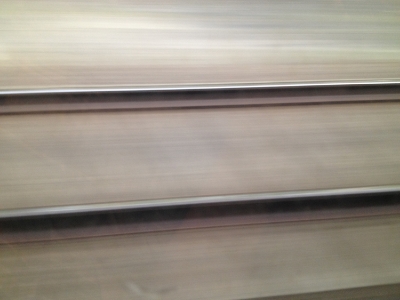 These are the things I found interesting in this month's report:
1) The report is dated June 27, 2014 and was posted that afternoon. This is about as early as Amtrak has gotten.
2) Ridership continues to lag behind the comparable period for last year. The passenger ridership deficit as of May 31, 2014 continues to grow and now stands at 496,943. For the year to date the total ridership is 20,057,872. It is highly unlikely that a new ridership record will be achieved this year.
Ridership has been harmed by the awful timekeeping on most of the long-distance trains. While the Empire Builder has gotten the most headlines (and has gotten slightly better) The California Zephyr, The Capitol and The Lake Shore Ltd routinely are 2 to 5 hours late each day. Persons making connections in Chicago are sweating out the arrival times. In the case of The Capitol, arrival in Washington to switch to another train is getting tenuous.
3) On the other hand Amtrak continues to meet operating income and deficit goals. At the end of May Amtrak was $101.7 million ahead of budget. Net Interest is $50.4 million better than budget. Amtrak is now forecasting the cash requirement for operations for the entire year ending September 30, 2014 will be under $300 million for the first time in decades (it may have been this low in the 1970s). The actual forecast is $293.4 million and is an improvement of $18 million over the estimate at the end of April. Cost recovery of the year so far is 96.0% and Food and Beverage recovery is edging up to 49.5%.
The Gaap loss for the year to date is $673.7 million which is an $180.3 million improvement over last year.
4) The number of product lines with an operating surplus remains at 7 with the Adirondack showing a break even situation and the Maple Leaf meeting all costs except for OPEBs and its share of the Amtrak IG. The seven with positive results are:
Acela $211.5 million
Northeast Regionals $117.7 million
Washington-Newport News $ 3.6 million
Washington-Lynchburg $ 2.6 million
Washington-Norfolk $ 1.8 million
Vermonter $ 0.4 million
5) Two product lines had ridership increases of more than 10% over last year: Special NEC Trains at 106.2% and Washington-Norfolk at 32.3%
6) Long term debt increased by $7.985 million mainly by an increase in the RIFF Loan of $5.857 million. Other categories show a $2.483 million increase in Capital Leases offset by a $0.214 million decrease in the Penn Station Mortgage and $0.141 million decrease in Equipment and other debt. Current maturities decreased by $5.572 million. Total Debt is now $1.359 billion.
7) Returning after a FOUR MONTH ABSENCE was the Chief Engineer's report. Since January 31, 2014 there have been 7 turnouts added, 1 bridge deck retimbered, 0.8 miles of catenary equipment renewed, and 1 mile of signal cable added.
8) In May, the Mechanical Department overhauled 15 Amfleets, 10 Superliners, 4 Horizons, 1 Viewliner and 1 Surfliner.
9) The Capital Budget increased Authorized Spending by $0.247 million. Forecast spending for the entire FY2014 decreased by $14.783 million. The Viewliner order is now forecast (over last month) to decrease by $0.128 million.
Amtrak has so far spent this fiscal year a total of $687.266 million. Of that $84.522 million has been spent on the concrete shell under the Hudson Yards and $3.909 million on the new Viewliner Order. ADA Expenditures so far this year are at $17.4 million.
10) Employment at Amtrak decreased in May by 6 positions to 20,388.
11) The House passed the THUD appropriations after making some bad amendments on the floor. The house bill now has language forbiding Amtrak to spend any federal money on subsidizing food operations, and requiring Amtrak to eliminate the long distance train with the highest subsidy per passenger over the last five years (TheSunset of course). The Senate THUD got merged with the Agriculture bill and the Commerce Bill which then got pulled by Harry Reid, because some Senators were going to offer amendments to the bill. Since Harry Reid has become Majority Leader in 2007 there has not been one single Appropriations bill debated and voted on separately. Most of the time it has been by continuous resolutions not subject to amendment by the Senate. In an unrelated bill, the Appropriations Committee pulled its draft because the committee members had assembled a majority on an amendment that Harry Reid did not like. Say what you want about the House of Representatives, but the Minority Party gets to propose amendments, have a debate and vote on them (and on occasion see that amendment pass).
More ACS-64 Sprinters have been shipped east. The number is up to 15 now. Two were damaged last month turned out to be in far better condition than first reported.
Amtrak is field testing the one baggage car that it has on its property. That testing will last through the fall. No news on when any more equipment will leave the factory.
STEVE MUSEN
State Representative from the State of Rhode Island to the National Association of Railroad Passengers' Council of Representatives
"The Rail Passenger Association's recognition of the essential work done by SMART-TD members aboard Amtrak during this difficult period is appreciated. The Golden Spike Award serves as a testament to the compassion and dedication our conductors, assistant conductors and other workers exhibit constantly through times both ordinary and extraordinary."
Jeremy Ferguson, SMART-TD President
December 21, 2021, on the Association awarding its 2021 Golden Spike Award to the Frontline Amtrak Employees.