Happening Now
"First Transit Super Bowl" Overwhelmed By Passenger Demand
Written By Sean Jeans Gail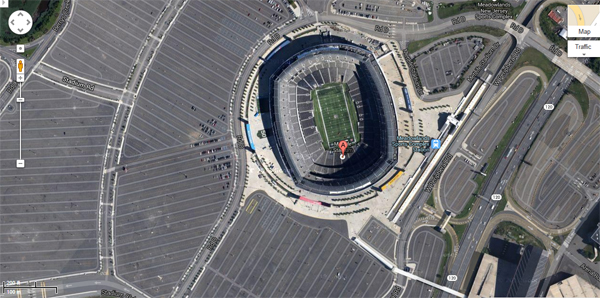 Parking infrastructure and transit infrastructure at the MetLife Stadium. Image via Google Maps.
Organizers dubbed it "the first transit Super Bowl," but the agencies involved were unprepared for the more than 27,000 attendees who took that to heart. Add in heightened security creating additional chokepoints, and the end result was a completely overwhelmed transit infrastructure.
USA Today provided details about the flood of passengers that led to people waiting hours to get on a train:
More than 27,000 people flooded the Secaucus train station in New Jersey for transportation to the Super Bowl on Sunday, wildly exceeding official estimates as fans waited uncomfortably amid long delays to the game.
A spokesman for NJ Transit told USA TODAY Sports that game organizers estimated that 12,000 to 15,000 people would take New Jersey trains to the game. By 4:30 p.m. ET, about two hours before kickoff, the actual number was 27,000, said Bill Smith, spokesman for NJ Transit. Smith said the previous record was 22,000 for a U2 concert in 2009.
It's hard to know exactly who is to blame in this situation. While it would be easy to point fingers at NJ Transit, it may simply be the case that the infrastructure was insufficient to the loads placed on it.
To compare, Long Island Rail Road's Belmont Racetrack station was designed to accommodate huge, simultaneous influxes of passengers. With an overhead ramp to provide center access to multiple platforms, passengers can feed down to any of the three platforms serving four tracks from either direction. This is not the case with NJT's Meadowland's Sports Complex station. However, if the Meadowland's is only going to make transit a top priority for a single day, is it really worth the cost to upgrade? The MetLife stadium is much more car-centric, with space given over to roughly 28,000 parking spots. Because of increased media and security for the big game, organizers decided to make only 11,000-13,000 of those available. In retrospect, it's clear not enough thought was given to how people would get to the game, or whether the transportation infrastructure was capable for this sudden juxtaposition of priorities.
It is a question often posed to NARP, in one form or another: how can officials quickly fix this infrastructure problem that was created through decades of poor planning and underinvestment? Unfortunately, there is no magic switch we can flip. It'll take many years of hard work to create a balanced transportation system. All the more reason to start today.
"I wish to extend my appreciation to members of the Rail Passengers Association for their steadfast advocacy to protect not only the Southwest Chief, but all rail transportation which plays such an important role in our economy and local communities. I look forward to continuing this close partnership, both with America's rail passengers and our bipartisan group of senators, to ensure a bright future for the Southwest Chief route."
Senator Jerry Moran (R-KS)
April 2, 2019, on receiving the Association's Golden Spike Award for his work to protect the Southwest Chief