Happening Now
Exploring the intersection of business and values in Denver
Written By Malcolm Kenton
The Millennial Trains Project's second day in Denver dawned sunny and cool, and we gathered in the dome car bright and early at 6:30 AM to hear from Erik Mitisek of Startup Denver. He played up the still ongoing Denver Union Station redevelopment project (whose construction we could watch through the windows) as a great example of transit-oriented development that is attracting Millennials and innovators to live in walkable areas around the station.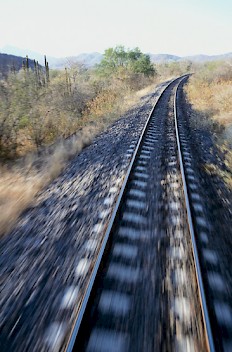 Mitisek discussed that the first impression many people who fly to new cities form about them has to do with how easy it is to get downtown from the airport, and boasted that by the end of this decade, you will be able to check your bag for your flight at Union Station and take a 20-minute train ride to Denver Internaitonal Airport.
We then headed, most of us by public transportation, to Galvanize--a hub space for high-tech collaborative enterprises, composed of a bank building converted to several open workspaces with a coffee shop and bar. At their front conference room, we heard from Richard Eidlin, the founder of Greater Good Academy at the University of Denver and Board member of theAmerican Sustainable Business Council. He discussed how the notion of businesses being responsible to stakeholders, and not just shareholders, has evolved--from the first discussions of Corporate Social Responsibility in the early 1990s, to today, when 20 states have chartered Benefit Corporations--those which can have legal obligations other than to maximize profits.
Eidlin emphasized that the leaders of green enterprises need to be involved in the making of public policy. "If you don't participate, you're ceding the playing field to others who have a different agenda," he said. "Millennials now have an opportunity to fight a different set of values up front and blend your conscience with your enterprises. The line between for profit and nonprofit is getting blurrier."
I interviewed Eidlin after his talk, and he strongly agreed that the sustainable business community is seeking to invest in places with transportation networks not utterly dependent on automobiles and fossil fuels. He recognized the decades-long funding imbalance between rail and other modes as being a major problem, and was intrigued by NARP's Vision for an expanded intercity passenger train network.
I then met three Board members of the Colorado Rail Passenger Association for a discussion over pizza that centered on current challenges to passenger train advancement in Colorado, primarily the work to preserve the existing route of the Southwest Chief. ColoRail is also highly critical of the design of the Denver Union Station redevelopment, which leaves only two tracks each for Amtrak and commuter rail -- not enough to accommodate the anticipated future growth of either--and places the light rail platforms a long walk from the historic station building.
I finished my time in Denver by riding the new (opened in April) RTD W (West) light rail line. The line runs due west from Denver along an original electric interurban railroad right of way following a stream (what's old is new again!), through Lakewood and ending east of downtown Golden, situated in the foothills of the Front Range. I detrained halfway out in Lakewood, where I met up with longtime NARP member Helen Bushnell. She is working hard to diversify the rail and transit advocacy movement by reaching out to minority communities who use transit, particularly Hispanics. Her Website is www.trainstar.net. I had a useful interview with her aboard a light rail train headed out to the Jeffco station--a park and ride station next to an impressive large Jefferson County government building.
After riding the W Line back into Union Station, I took the short walk back to the train and settled in for an on-time departure from Denver behind the day's eastbound Zephyr. We enjoyed a wonderful dinner under a dramatic twilight cloudscape over the rolling prairies of northeastern Colorado, drifting across them at 79 miles per hour.
"It is an honor to be recognized by the Rail Passengers Association for my efforts to strengthen and expand America's passenger rail. Golden spikes were once used by railroads to mark the completion of important rail projects, so I am truly grateful to receive the Golden Spike Award as a way to mark the end of a career that I've spent fighting to invest in our country's rail system. As Chair of the Transportation and Infrastructure Committee, it has been my priority to bolster funding for Amtrak, increase and expand routes, look to the future by supporting high-speed projects, and improve safety, culminating in $66 billion in new funding in the Bipartisan infrastructure Law."
Representative Peter DeFazio (OR-04)
March 30, 2022, on receiving the Association's Golden Spike Award for his years of dedication and commitment to passenger rail.