Happening Now
Empire Builder Schedule Slashed by Half Until Dec 15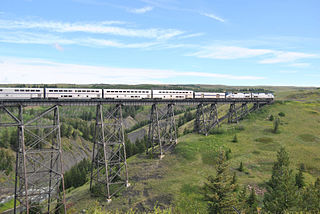 Written By Abe Zumwalt
In normal times, The Empire Builder is perhaps the premier long-distance train operating on the Amtrak network, offering scenery that unfolds like a novella of the American West, a lifeline to the northern plains, and quality onboard amenities. However, as of late the train has become beleaguered with delays to an epic extent. The crude oil boom in North Dakota, almost in the middle of the Builder's 2,000 mile journey, is causing unprecedented levels of freight traffic along the BNSF corridor, stretching the capacity of the track to the limit.
This, combined with the anemic condition of Amtrak's long distance services—hindering any kind of redundancy of crews or equipment—has resulted in an average delay of 310 minutes, or a little over five hours. Despite that the Empire Builder is a very large passenger train, it is quick and nimble when compared to the mile-long freight trains with which it shares the tracks. Thus, amidst the more frequent traffic, the Builder has found itself on sidings waiting for passing freights to a ludicrous degree as of late.
In an attempt to reset the train on its normal schedule, Amtrak is running the train every other day, instead of daily, until December 15th. Amazingly, despite this extraordinary inconvenience, the need for transportation is so desperate along the route that the train is still running remarkably full of passengers. This is further evidence that our national network trains are valuable transportation assets that need increased and sustaining levels support.
For the Nuts and Bolts of how this truncated operation will run, a statement straight from NARP President & CEO Ross Capon:
Amtrak's goal was to get to recover semblance of normalcy before the holiday rush period. The additional train set Amtrak is assigning should mitigate over-the-road delays but BNSF does not have a projection as to when things will improve. As of yesterday morning, BNSF had 143 trains in their Northern Region in yards and parked on sidings waiting for crews and locomotives. I understand one train has been on a siding around Wenatchee since about November 26. Veteran railroaders on this route have never seen anything like this.
Full daily operations resume for train 7/27 with Sunday Dec. 15 departure from Chicago (disregard previous question mark about the Monday departure – it will operate normally).
Full daily operations resume for train 8/28 with Monday Dec. 16 departures from Seattle and Portland.
There will be no service between St. Paul and Spokane for these days and directions:
Train 8 departing West Coast today
Train 7 departing Chicago tomorrow
Train 8 departing West Coast Friday Dec. 13
Train 7 departing Chicago Sat Dec. 14
Train 8 departing West Coast Sunday Dec. 15
Chicago-St. Paul Stub Operations
On the following days, train 7 will run only as far as St. Paul:
Thursday Dec. 12
Saturday Dec. 14
Eastbound "stub" trains will run from St. Paul to Chicago as follows:
Friday Dec 13 (east end of canceled Train 8 of the 11th)
Sunday Dec 15 (east end of canceled Train 8 of the 13th)
Tuesday Dec 17 (east end of canceled Train 8 of the 15th)
Seattle-Spokane Stub Operations
On these days, train 8 will run only from Seattle to Spokane:
Friday Dec. 13
Sun. Dec. 15
A substitute bus will operate today (Wed Dec 11)
On these days, substitute buses will operate from Portland to Spokane:
Wed Dec 11
Fri Dec 13
Sun Dec 15
The return stub trains will operate as follows:
Spokane to Seattle
Sat Dec. 14 (west end of canceled train 7 of the 12th)
Mon Dec. 16 (west end of canceled train 7 of the 14th)
Spokane-to-Portland buses also run those days.
"We would not be in the position we're in if it weren't for the advocacy of so many of you, over a long period of time, who have believed in passenger rail, and believe that passenger rail should really be a part of America's intermodal transportation system."
Secretary Ray LaHood, U.S. Department of Transportation
2011 Spring Council Meeting