Happening Now
East Coast transportation network staggering back to full service
Written By Sean Jeans Gail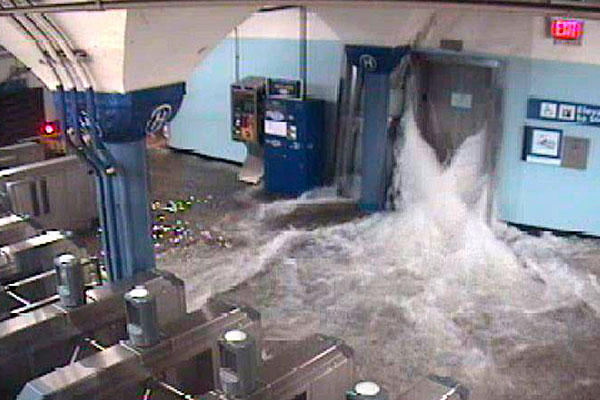 Following widespread devastation in the wake of Hurricane Sandy, transportation networks throughout the Northeast and Mid-Atlantic are slowly beginning to resume service, though some systems promise to remain inoperative for days to come.
Amtrak Restores Partial Service

Amtrak, which was forced to cancel some trains as early as early Sunday, October 28, shutdown the entirety of its operations along the Northeast Corridor on Monday and Tuesday, with most East Coast service suspended.

Amtrak announced last night it will implement a gradual resumption of service, starting with the return a modified Northeast Regional service between Newark, NJ, and points south, today (including Virginia service to Lynchburg, Richmond and Newport News). Amtrak will also operate Keystone Service trains between Harrisburg, PA, and Philadelphia, and modified Downeaster service trains between Boston and Portland, Maine. Various overnight services to and from the Northeast will also began to be reintroduced. Auto Train is running normally today. Amtrak released the following list of trains and their segments which will operate today:
Crescent (Trains 19 & 20) operates only between Washington D.C. and New Orleans
Cardinal (Train 51) operates only between Indianapolis and Chicago
Maple Leaf (Trains 63 & 64) operates only between Toronto and Albany-Rensselaer
Carolinian (Trains 79 & 80) operates only between Philadelphia and Charlotte
Silver Star (Trains 91 & 92) operates only between Miami and Jacksonville
Silver Meteor (Trains 97 & 98) operates only between Washington D.C. and Miami
Auto Train operates normally from Florida (Train 52) but will not operate from Virginia (Train 53)
Lake Shore Limited (Trains 448 & 449) operates normally Chicago-Boston with no service to New York, Croton-Harmon and Poughkeepsie (Trains 48 & 49).
Amtrak Restoration Work Continues

Due to "unprecedented" flooding in the tunnels under the Hudson and East rivers, operations through New York City are still offline. Amtrak crews are busy removing water and making repairs to track, signal and power systems within these tunnels. A date for restoration of Amtrak service directly to/from New York Penn Station—for either the northern or southern access points—has yet to be determined.

Until this work is complete, there will be no Northeast Regional service between Newark and Boston, and no Acela Express service the length of the Northeast Corridor. Also, at Newark Penn Station, there will be no connecting service to New York City.

The following trains also are canceled Wednesday, October 31:
Shuttle trains, Springfield, Mass.-New Haven, Conn.
Capitol Limited (Trains 29 & 30), Chicago-Washington, D.C.
Pennsylvanian (Trains 42 & 43), Pittsburgh-New York City
Auto Train (Train 53), Lorton, Va.-Sanford, Fla.
Vermonter (Trains 55 & 56), St. Albans, Vt.-Washington, D.C.
Palmetto (Trains 89 & 90), New York-Savannah
Empire Service between New York City and Buffalo/Niagara Falls
Adirondack to and from Montreal, Québec, Canada
Ethan Allen Express to and from Rutland, Vt., due to track damage south of Albany-Rensselaer, N.Y.
Passengers can monitor status updates at Amtrak.com/alerts. Amtrak also has a Twitter account that provides real-time updates for Acela Express, Northeast Regional, and Keystone Service trains (@AmtrakNEC).

Amtrak is expected to provide an update by this evening so, as always, check their web site for new information. Passengers who have already booked tickets can find out more about refunds here.
---
National transit systems face uneven restoration challenges
New York Governor Andrew Cuomo announced this afternoon that limited service would be restored to Metro-North Railroad and the Long Island Rail Road at 2 PM, with limited subway service resuming Thursday (service below 34th Street will still be suspended).
New Jersey Transit has yet to resume operations and, given the extent of the damage to the state's infrastructure, is unable to provide an estimate when even limited service will be restored.
Connecticut's Shore Line East commuter railroad is suspended indefinitely as crews assess damage.
As of Tuesday morning, most MBTA and Boston transit service had been restored.
Southeast Pennsylvania's SEPTA regional rail service resumed service at 5 AM this morning.
Maryland Transit Administration has resumed regular operations of light rail, MARC Train, and commuter bus service.
Washington, D.C.'s WMATA resumed Metrorail service Tuesday evening, with full Metrorail, Metrobus and MetroAccess service restored on a regular weekday schedule as of this morning.
"I'm so proud that we came together in bipartisan fashion in the Senate to keep the Southwest Chief chugging along, and I'm grateful for this recognition from the Rail Passengers Association. This victory is a testament to what we can accomplish when we reach across the aisle and work together to advance our common interests."
Senator Tom Udall (D-NM)
April 2, 2019, on receiving the Association's Golden Spike Award for his work to protect the Southwest Chief