Happening Now
Better than Google Maps?
Written By Abe Zumwalt
Getting around just got easier. The gala launch event for RideScout happened last night in DC's 1776 startup incubator. RideScout, developed in part by some enterprising military veterans who tired of seeing the glaring inefficiency of empty seats in cars, busses, and trains (hence the referential name). Using the magic of mobile technology, as well as an impressive cooperative effort from public transit agencies, bike share companies, and taxi aggregators, they have created something that makes Google Maps transit planning function seem limited. By making more of this information easily accessible than ever before, they're creating a new kind of transportation market place with this better information, that has the potential of filling a great many of those empty seats. Here's how it works: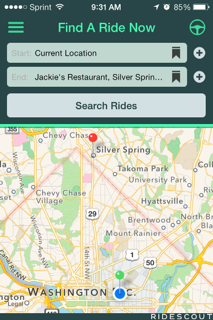 Say I want to go to my favorite bar, just outside of D.C. in Silver Spring. I'll enter the address, which RideScout handily locates. After pressing 'Search Rides,' I am brought to this screen: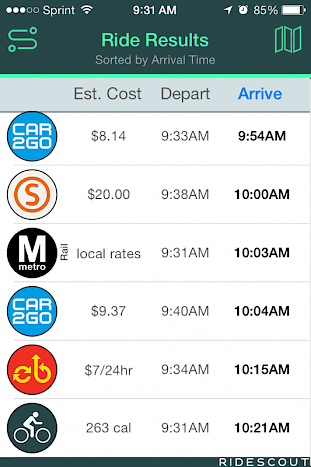 Where I can see that my options range from a $20 SideCar ride, to burning 263 calories by bicycle. Finally, mapped for you are the multitude of options relative to where you are—in this case, two available Car2go cars, two Capital Bikeshare locations, and our Metro stop: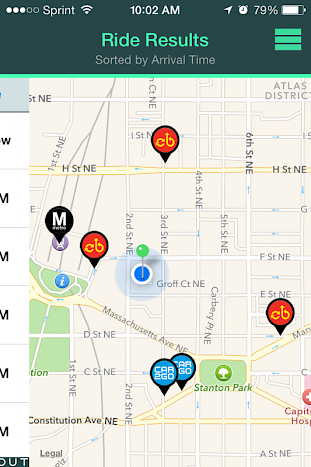 Obviously, there are still some kinks to work out—for instance, the absence of a fare calculator for DC's Metro system. There are complexities like peak hour fares, and different types of fares (such as senior and student rates) to factor in, although they are working on providing this information, as Communications Manager Rachel Charlesworth told us last night. In turn, we informed her that Amtrak allows access to fare information through aggregators, noticing that there is a similar gap in information for intercity travel options: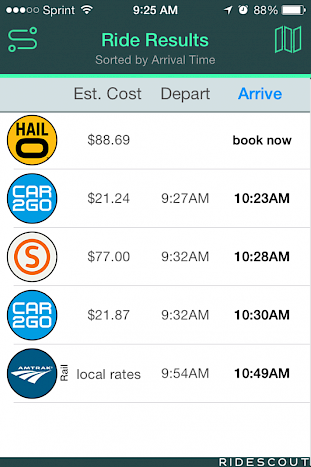 There are also exceptions to the inclusivity of the app—notably, Lyft, which pioneered the smart sourcing of ride sharing, and Zipcar, the first carshare service. This is regrettable, simply considering the kind of increased competition such information aggregation could achieve. Time will tell if RideScout has what it takes to become a part of everyday life for its user base. Then, perhaps we'll see even more inclusion on the platform, providing that much more information. Nevertheless, RideScout sets a new precedent.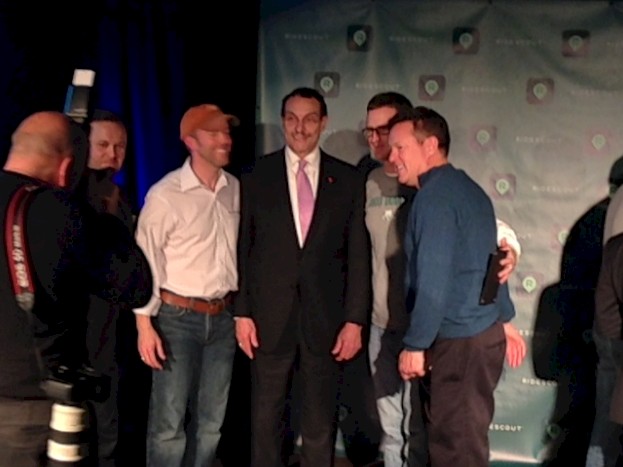 The Ridescout Team with D.C. Mayor Vincent C. Gray

On an aside, Malcolm and myself had the unusual experience of riding the elevator out of the party with the Mayor of the District of Columbia, who informed us of his preference for rail travel, despite now being privy to other options!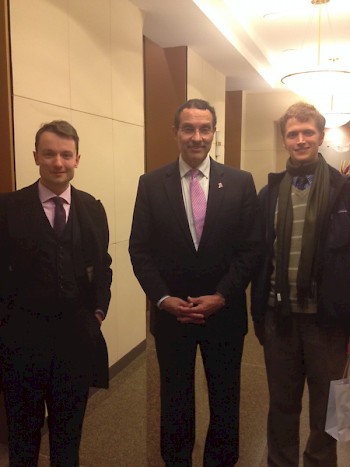 NARP's Abe Zumwalt & Malcolm Kenton with Mayor Vincent C. Gray
"When [NARP] comes to Washington, you help embolden us in our efforts to continue the progress for passenger rail. And not just on the Northeast Corridor. All over America! High-speed rail, passenger rail is coming to America, thanks to a lot of your efforts! We're partners in this. ... You are the ones that are going to make this happen. Do not be dissuaded by the naysayers. There are thousands of people all over America who are for passenger rail and you represent the best of what America is about!"
Secretary Ray LaHood, U.S. Department of Transportation
2012 NARP Spring Council Meeting