Happening Now
Are US crashworthiness standards "dooming" passenger rail?
Written By Colin Leach
One frequent criticism of passenger rail's viability is that it entails high fixed costs and thus discourages potential investors. While many of these costs, such as track maintenance and equipment maintenance, are relatively constant, at least one can, according to a recent study, be significantly lowered: that of equipment purchases.
In a new paper released by the Competitive Enterprise Institute, David Edmonson argues that outdated Federal Railroad Administration (FRA) safety rules prevent passenger rail operators from purchasing standard European and Japanese equipment, and as such must spend significantly more to buy FRA-approved equipment. This "heavy burden", Edmonson maintains, has no basis in modern safety standards and places operators at a "disadvantage in the transportation market without any appreciable gain in surface or safety."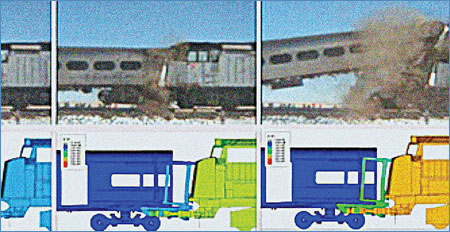 Edmonson's argument centers around the question of "buff strength" requirements, which mandate that a railcar's undercarriage be able to resist a certain amount of force before enduring permanent damage. Upped to 800,000 lbs from the initial 400,000 in 1945, buff strength requirements have been imposed on all new intercity and commuter rail equipment since 1999. Such an approach, Edmonson observes, contradicts that adopted by European regulators. Rather than requiring such a high "buff strength", European authorities instead mandate that all cars utilize a technology known as "crash energy management". Crash energy management calls for crumple zones to be located in non-passenger areas such as electrical closets and vestibules; these zones absorb a crash's energy and thus lower the need for a high buff strength.
The effects of a higher buff strength, Edmonson contends, are higher maintenance costs and underperforming equipment. Although no American companies presently make electric and diesel multiple units (EMUs and DMUs), any company that tried would find itself unable to export their units due to their incompatibility with the more dominant European safety standard. To avoid these pitfalls, the author recommends that the FRA revise its rules and adopt European standards- or, alternatively, simply grant more exceptions to allow equipment not compliant with the current US standard.
But Edmonson's approach has both pros and cons. While relaxing FRA standards would certainly permit acquisition of less expensive equipment and allow operators to purchase equipment with proven reliability records, the practicality of doing so is questionable. While the author acknowledges that the comparatively heavier weights of American freight locomotives and cars have been cited as justification for the FRA's purportedly excessive standards, he dismisses buff strength as an irrelevant requirement. He maintains that this is particularly true for passenger operators that do not have to share their tracks with heavier freight trains, as is supposedly the case with the Long Island Rail Road.
However, as the LIRR actually shares tracks with freight service, the FRA's caution is not entirely misplaced. Furthermore, as demonstrated by the crash on Metro-North in Connecticut, higher crush requirements can save lives. Senator Richard Blumenthal (D-CT) noted that the Kawasaki M8 EMU's reinforced design was "surprisingly" crashworthy and likely prevented deaths.
A relaxation of FRA's crashworthiness standards should be pursued in conjunction with the legally-mandated installation of Positive Train Control (PTC) systems on all passenger-carrying lines in the US. PTC, by preventing collisions in the first place, can make it possible to use lighter passenger train equipment with an even greater degree of safety than currently exists in this country.
"It is an honor to be recognized by the Rail Passengers Association for my efforts to strengthen and expand America's passenger rail. Golden spikes were once used by railroads to mark the completion of important rail projects, so I am truly grateful to receive the Golden Spike Award as a way to mark the end of a career that I've spent fighting to invest in our country's rail system. As Chair of the Transportation and Infrastructure Committee, it has been my priority to bolster funding for Amtrak, increase and expand routes, look to the future by supporting high-speed projects, and improve safety, culminating in $66 billion in new funding in the Bipartisan infrastructure Law."
Representative Peter DeFazio (OR-04)
March 30, 2022, on receiving the Association's Golden Spike Award for his years of dedication and commitment to passenger rail.