Happening Now
Amtrak's Hoosier State threatened
Written By Sean Jeans Gail
A provision in federal law is endangering the popular Hoosier State train, and we need your help to save it!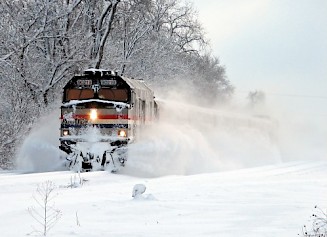 Amtrak's Hoosier State runs between Indianapolis and Chicago. In combination with the Cardinal, it provides seven day a week service connecting those cities as well as serving Crawfordsville, Rensselaer, Lafayette and Dyer. Daily service is particularly important for this short route and helps keep alive the idea that trains are a realistic and desirable alternative for travel within the state ofIndiana.
The Hoosier State served 36,508 passengers in 2011 alone, providing service to Dyer, Hammond,Gary, Whiting, East Chicago, Merrillville, Schererville, Rensselaer, Lafayette, West Lafayette, Crawfordsville and Indianapolis.
If the "Hoosier State" is discontinued, this line will have only the three-days-a-week Cardinal service. This makes it virtually impossible to do any rational planning for rail travel within Indiana, and basically eliminates it as a useful travel option. Dropping Indianapolis-Chicago service to three days per week makes the route non-viable.
The Passenger Rail Investment and Improvement Act included a provision (Section 209) that requires all trains running less than 750 miles to be funded by the states served by October, 2013. The "Hoosier State" runs just under 200 miles (all within Indiana), and likely will be eliminated if state funds are not forthcoming.
Seven day a week service is a necessary precursor to any eventual improvements or movement towards high performance rail along the Chicago-Indianapolis-Cincinnati corridor. This improved service is currently being developed between Chicago and St. Louis, and Chicago and Detroit. Indianans must stand up for a modern Midwestern passenger rail network.
Passengers are counting on the Indiana General Assembly to include funding for the "Hoosier State" in the budget being prepared in the current budget session. With the budget session set to wrap up by the end of March, time is running short!
NOTE: This action is limited to Indiana residents only. Others can help by making an extra gift to NARP.
"I wish to extend my appreciation to members of the Rail Passengers Association for their steadfast advocacy to protect not only the Southwest Chief, but all rail transportation which plays such an important role in our economy and local communities. I look forward to continuing this close partnership, both with America's rail passengers and our bipartisan group of senators, to ensure a bright future for the Southwest Chief route."
Senator Jerry Moran (R-KS)
April 2, 2019, on receiving the Association's Golden Spike Award for his work to protect the Southwest Chief