Happening Now
Amtrak moving in Roanoke's direction
Written By Malcolm Kenton
Virginia State Senator John Edwards (D-Roanoke), a long-time train supporter, hosted a town hall meetingin his home city on Wednesday to discuss the Commonwealth of Virginia's plan to extend the state-supported Northeast Regional train currently terminating in Lynchburg west to Roanoke. Virginia Department of Rail and Public Transportation Director Thelma Drake said that although the state's projected opening date for the extension is in 2017, the state had also given a four-year timeline for instating service to Norfolk, but got it done in three years. "Trains are coming back," Drake proclaimed. "Real progress is being made."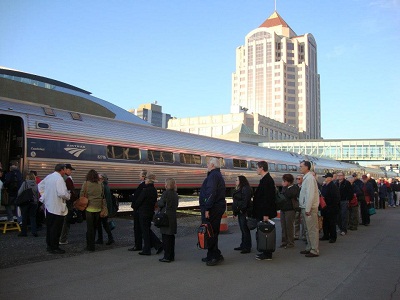 Since the start of Lynchburg service in 2010, the train's cost-recovery ratio (percentage of operating costs covered by passenger revenues) has been 156%. The extra revenue has helped the state start up the Norfolk train, along with an additional Washington-Richmond round-trip. Drake noted that college students are major users of the Lynchburg train, and on-board beer sales provide a great deal of revenue.
The City of Roanoke is pitching in, paying half the cost for a culvert replacement under the Norfolk Southern tracks in downtown and working to secure federal funding for a multi-modal passenger station. The city is also covering the cost of the SmartWay Connector bus, which provides a daily connection from Roanoke to the Amtrak station in Lynchburg (and is now an Amtrak Thruway), for the next two years, now that the state has stopped supporting it. But, if Amtrak service is to eventually extend south and west of Roanoke towards Bristol, equipment and crewing issues will have to be resolved. Amtrak's plan to open a Charlottesville crew base will help with this.
Also encouraging is the state-funded rehabilitation of the Buckingham Branch Railroad, a short line that runs from Richmond to Clifton Forge via Charlottesville and Staunton. The tri-weekly New York-ChicagoCardinal uses the BBRR between Orange and Clifton Forge, and has become more reliable thanks to new welded rail and longer sidings with automated switches—also one less obstacle to long-sought dailyCardinal service. Also discussed was the possibility of connecting Roanoke, Lynchburg and Charlottesville to Richmond via the BBRR.
A special excursion train boards in downtown Roanoke on Nov. 13, 2012. Photo by Malcolm Kenton.
"When [NARP] comes to Washington, you help embolden us in our efforts to continue the progress for passenger rail. And not just on the Northeast Corridor. All over America! High-speed rail, passenger rail is coming to America, thanks to a lot of your efforts! We're partners in this. ... You are the ones that are going to make this happen. Do not be dissuaded by the naysayers. There are thousands of people all over America who are for passenger rail and you represent the best of what America is about!"
Secretary Ray LaHood, U.S. Department of Transportation
2012 NARP Spring Council Meeting