Happening Now
Amtrak breaks another ridership record
Written By Sean Jeans Gail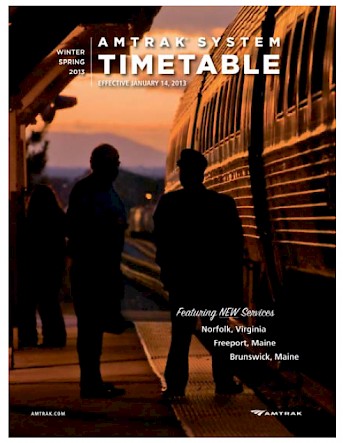 Amtrak announced yesterday that ridership has continued to increase during the first half of Fiscal Year 2013, with the railroad setting a new single month ridership record in March. Individual monthly ridership records were also set in October, December, and January.
The announcement comes the same week that Amtrak President and CEO Joseph Boardman will appear before the House Committee on Transportation to discuss the company's FY 2014 budget request. Demand for trains is bumping up against current capacity, and Amtrak's aging fleet in need of replacement; Amtrak now operates almost 1200 passenger cars that are available for service nationwide, and 72 percent of these are 31 to 38 years old, considered past their useful and commercial life. It is vital that Congress works with President Obama to adequately fund the investments that will allow ridership to continue to grow.
Amtrak issued a release detailing the steady increased in demand for train during the first half of FY 2013 (October 2012 through March 2013):
Rebounding strongly from service disruptions caused by Superstorm Sandy and other severe weather, Amtrak ridership grew 0.9 percent in the first six months of FY 2013 as compared to the same period the prior year. In all, 26 of 45 routes posted ridership increases and Amtrak expects to end the fiscal year at or above last year's record of 31.2 million passengers.
"The continued ridership growth on routes across the country reinforces the need for dedicated, multi-year federal operating and capital funding to support existing intercity passenger rail services and the development of new ones," said Amtrak President and CEO Joe Boardman.
Northeast Corridor ridership took a significant hit from Superstorm Sandy, is seeing a solid recovery and is predicted to show gains for the full fiscal year despite being down 1.2 percent for this six-month period. Ridership on state-supported and other short distance routes is up 2.7 percent and long-distance ridership grew 0.5 percent.
Routes with notable ridership growth in the first six months of FY 2013 include: Palmetto (+10.5 percent), Coast Starlight(+10 percent), Illini/Saluki (+9.8 percent), San Joaquin (+8.9 percent), Piedmont (+8.6 percent), Wolverine (+8.2 percent),Vermonter (+6.7 percent), Carolinian (+6.3 percent), Keystone Service (+5.2 percent), Springfield Shuttles (+5.2 percent),Downeaster (+4.8 percent), Pacific Surfliner (+4.3 percent), and Pennsylvanian (+4.3 percent).
"It is an honor to be recognized by the Rail Passengers Association for my efforts to strengthen and expand America's passenger rail. Golden spikes were once used by railroads to mark the completion of important rail projects, so I am truly grateful to receive the Golden Spike Award as a way to mark the end of a career that I've spent fighting to invest in our country's rail system. As Chair of the Transportation and Infrastructure Committee, it has been my priority to bolster funding for Amtrak, increase and expand routes, look to the future by supporting high-speed projects, and improve safety, culminating in $66 billion in new funding in the Bipartisan infrastructure Law."
Representative Peter DeFazio (OR-04)
March 30, 2022, on receiving the Association's Golden Spike Award for his years of dedication and commitment to passenger rail.