Happening Now
Amtrak Bicycle Task Force: Bringing Bikes on Board
Written By Sean Jeans Gail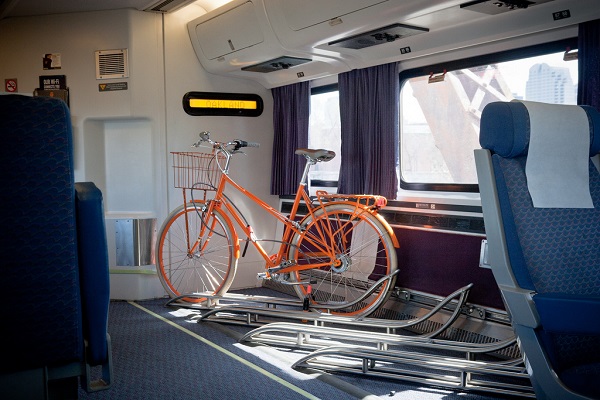 Photo by Orin Zebest, courtesy of Skift
As a leader in intercity passenger rail development, NARP has long understood that transportation works best when different modes work well together. By smoothing the seams between transportation systems, you showcase the strengths and minimize the weaknesses of each individual mode. So NARP was very excited when we were invited to join the Amtrak Bicycle Task Force, a coalition of passenger, cyclists and industry representatives that are looking for ways to expand bicycle access on trains—and do so in a way that won't inconvenience the average Amtrak customer.
Today, we'll be cross-posting a piece written for the Adventure Cycling Association's website by Deborah Stone-Wulf, Amtrak's Chief of Sales Distribution and Customer Service and Task Force co-chair:
[We at Amtrak] understand and appreciate the synergies between rail and bike travel, and continue to work hard to better serve the bicycling community. We, however, have many challenges, primarily with our core infrastructure. Among the key issues are finding space for bicycles on our trains and developing the ability to safely and efficiently load and unload bicycles. Much of Amtrak's fleet is quite old with many cars more than 40 years old and bikes were not a consideration during the original design. The good news here is new equipment for long distance trains is on the way, featuring design elements that will help on this front. That still won't help with our station platforms, however, which are of varying heights and present an obstacle for loading and unloading bicycles. The challenge to identify space on the train where bikes can be safely loaded, stored and unloaded is another big one we're examining.
Amtrak created the task force and teamed up with bicycle experts to help us identify solutions that perhaps we hadn't thought of. We are looking to the experts on the Bike Task Force to bring new ideas and a fresh perspective on the challenges, while also helping us understand the market that exists for bike-train customers. As Amtrak strives to deliver the best possible financial performance, it is important for us to understand customer demand, as we want to find a solution that does not negatively impact our financial performance.
I'm happy to report that things are moving forward with the Amtrak Bike Task force. We've had several productive discussions and are already seeing some creative ideas which should be beneficial. I expect that we will be ready to announce the pilot routes that we will be focused on very soon.
You can read the full piece over at AdventureCycling.org.
"On behalf of Amtrak's onboard service staff, I want to thank the Rail Passengers Association for honoring their hard work with this award. The past couple years have indeed been difficult for Amtrak onboard service staff – coping with furloughs and job insecurity, adapting to changing protocols and services, not to mention the unfortunate events such as a tragic derailment and a fatal shooting. Nevertheless, our dedicated members at Amtrak have handled these hurdles with the care, attention and diligence for which they're known. We thank Rail Passengers for their acknowledgement of our members' hard work and, as always, look forward to seeing you on the rails."
Arthur Maratea, TCU/IAM National President
December 21, 2021, on the Association awarding its 2021 Golden Spike Award to the Frontline Amtrak Employees.