Happening Now
All Transportation is Local
Written By Colin Leach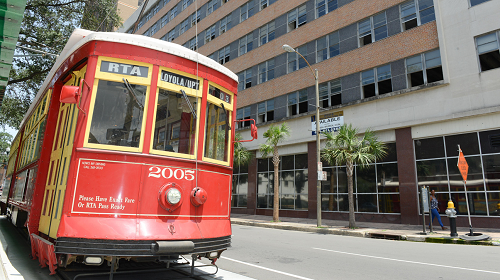 Loyola Avenue Streetcar (Photo by New Orleans City Business)
Washington's current dysfunction has left many transit advocates disheartened about prospects for funding today's needs and doubtful of any long-term commitment. Budget battles present stark contrasts between grand visions of massively increased federal investment and a huge scaling back of the same, leaving little room for the real action required to address the nation's transportation needs. What, then, are transit advocates to do, when faced with intractable ideological fights?
The solution, according to former Assistant Secretary of Transportation Beth Osborne, is to shift the focus from federal inaction and towards state and local governments that directly confront transportation problems each and every day. Osborne notes, for example, that the federal government's laudable investment in the Interstate Highway -System connecting communities across the nation did not translate into "making transportation networks work once you got into to those cities and towns, where most Americans spend their time". Rail advocates can sympathize with Osborne's point, given traditionally lower levels of support for passenger rail. Unlike highways, passenger rail systems can easily and efficiently transport passengers from city center to city center, eliminating the need for time-consuming changes of mode.
Current transportation financing, however, does not give metropolitan areas' needs pride of place. The majority of federal transportation dollars are disbursed to state departments of transportation through direct investment programs such as the Highway Trust Fund and other mechanisms. Osborne suggests that policymakers should instead allocate more funds that municipalities can directly access for their own priorities, a prescription whose worth has been proven by the success of the TIGER program.
First launched in 2009, TIGER allocates funds for projects that "do not fit neatly into highways or transit funding silos", with a particular emphasis on multimodal projects that will improve the utility of many different kinds of transportation. Since its inception, TIGER has disbursed more than $4.1 billion to hundreds of different projects across the country. As Osborne notes, demand from communities far outstripped the allocated funds. In 2009 alone, more than 1,400 communities submitted applications, totaling more than $60 billion in potential projects; allocations for that year were merely $1.5 billion.
Rail advocates know that TIGER has been a boon for communities wanting to embrace passenger rail. For example, consider the case of the Chicago Regional Environmental and Transportation Efficiency (CREATE) initiative. A partnership between the federal Department of Transportation, the State of Illinois, the City of Chicago, private freight railroads, and Amtrak, CREATE includes targeted investments in improving the Chicago area's rail infrastructure to allow for smoother, faster operations; directly benefiting Amtrak and Metra's passenger services. TIGER has also helped communities better position themselves to take advantage of existing passenger services. In the 2013 round, the program funded improvements and other renovations to stations in Oklahoma City and Raleigh, expanding their capacity to handle additional rail services in the future as well as bus, light rail, and other local transit services. On that note, we should also stress that TIGER has also enabled the expansion of local rail transit; to cite just one example, New Orleans' Loyola Avenue Streetcar would not have been possible without a generous TIGER grant.
We know that federal inaction has forced states to take the lead in supporting passenger rail. Whether in Michigan, Illinois, Virginia, or Indiana, states and local governments are working together to invest in their Amtrak services and equip them for future needs. State and local governments are also exploring the possibility of cooperating with private passenger rail operators, as we've seen inFlorida and Oklahoma. We can be confident that state and local governments will continue their support in the future.
That said, we should stress that we believe robust federal investment across all modes is necessary. A truly national passenger train network requires consistent national investment, and we would agree that there is no substitute for that. However, given the current political climate, we also recognize that state and local governments present the most likely forums for the real steps needed to build up the nation's passenger trains. That's why we support initiatives like TIGER that empower communities to say yes to passenger rail.
Speaker of the House Tip O'Neill once remarked that "all politics is local." We would expand that to say that "all transportation is local". Building the national network means building up local communities' ability to support it- something for policymakers to consider in the years to come.
"When [NARP] comes to Washington, you help embolden us in our efforts to continue the progress for passenger rail. And not just on the Northeast Corridor. All over America! High-speed rail, passenger rail is coming to America, thanks to a lot of your efforts! We're partners in this. ... You are the ones that are going to make this happen. Do not be dissuaded by the naysayers. There are thousands of people all over America who are for passenger rail and you represent the best of what America is about!"
Secretary Ray LaHood, U.S. Department of Transportation
2012 NARP Spring Council Meeting