Happening Now
Airlines Put the Squeeze on Passengers
Written By Sean Jeans Gail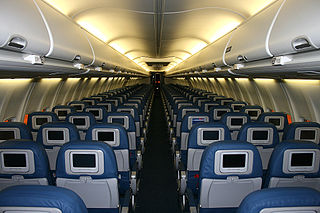 As if you needed another reason to take the train, the Wall Street Journal is reporting that airlines have been shrinking the average size of plane seats to cram more passengers in, and maximize profits:
Airlines' push to lure high-paying fliers with flatbed business seats and premium economy loungers is leaving economy-class passengers with less space.
A push over the past decade by carriers to expand higher-fare sections has shrunk the area devoted to coach on many big jetliners. But airlines don't want to drop passengers. So first airlines slimmed seats to add more rows.
Now, big carriers including AMR Corp.'s American Airlines, Air Canada, Air France-KLM and Dubai's Emirates Airline are cutting shoulder space by wedging an extra seat into each coach row. That shift is bringing the short-haul standard to long-haul flying.
But we shouldn't be too harsh on the airlines. As fuel prices increase, airlines, never the most stable of business sectors (quoth Warren Buffet: "Investors have poured their money into airlines and airline manufacturers for 100 years with terrible results. It's been a death trap for investors."), are faced with disappearing profit margins. As a recently released Massachusetts Institute of Technology study found, the brunt of this reality is being felt in the nation's small- to mid-sized airports:
The past six years have been challenging ones for domestic air service in the United States. Most airports have seen a reduction in scheduled domestic flights as a result of a difficult global economic climate and a U.S. recession, high and volatile fuel prices, and a recent trend of "capacity discipline" strategies by major airlines. The nation's small- and medium-sized airports have been disproportionally affected by these reductions in service, and recent airline behavior appears to signal a trend towards consolidation of service at the largest airports with fewer direct flights available from smaller airports.
However, these stories emphasize the importance of public investment in rail infrastructure to boost capacity on travel corridors 500-miles and shorter, where passenger trains are most competitive. As airlines struggle to provide essential mobility for large swaths of the U.S., the passenger rail sector must be poised to pick up the slack.
And let's hope the airline executives don't read The Onion.
"The COVID Pandemic has been and continues to be the biggest challenge faced by Americans as it has taken a deadly toll on the world and on the world's economies. During COVID Locomotive Engineers at Amtrak and other Passenger and Freight Railroads have embodied the definition of essential workers. This dedication by our members is not new. We applaud the Rail Passenger's Association for recognizing the vital contributions of our members and their hard work moving Americans and freight during the COVID pandemic."
Dennis Pierce, Brotherhood of Locomotive Engineers and Trainmen (BLET) National President
December 21, 2021, on the Association awarding its 2021 Golden Spike Award to the Frontline Amtrak Employees.