Happening Now
A Serendipitous MTP Day in Denver
Written By Malcolm Kenton
Thanks to the remarkable cooperation of Amtrak and BNSF, the Millennial Trains Project was able to work out a two-day stay for our private cars in Denver, despite the lack of proper facilities at the city's temporary Amtrak station (Denver Union Station is undergoing a major redevelopment and is scheduled to re-open to Amtrak towards the end of 2014). The appearance of a brilliant double rainbow over our train at the end of a thunderstorm last night was a tremendously good omen, as was the fact that the Colorado Rockies of Major League Baseball were able to procure tickets for our entire group to last night's game (sadly, its start was delayed by rain, so we had to return to the train in the middle of the fifth inning so we wouldn't be too late for dinner on board).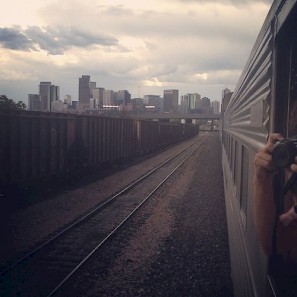 Today, our group was led on a tour of the Infinite Monkey Theorem Urban Winery in Denver's burgeoning RiNo (River North Arts District, referring to the part of the city north of the Platte River). The name comes from the scientific assertion that if a monkey is given a typewriter and an infinite amount of time, he will type the complete works of Shakespeare. Amongst the many innovations that founder Ben Parsons (who led our tour) has brought to the wine industry is the packaging of wine in cans and kegs, like beer (saving considerable resources) and growing grapes in western Colorado (coincidentally, their vineyards are right alongside the tracks the California Zephyr traverses, near Grand Junction) and trucking them (often himself) to Denver to be fermented, stored and packaged in an urban warehouse. If his winery grows to the point where he no longer can take shipments to Denver in one truckload, perhaps he could ship them via the Union Pacific Railroad.

The afternoon was spent with renowned architectTravis Price, a professor at the Catholic University of America in Washington, DC, and a pioneer in the creation of public spaces that are echoic of an area's mythology, as well as in constructing modern houses that blend in with, reflect and interact with their surroundings. His photo-filled PowerPoint was a journey around the world discussing the mythologies of various cultures, and contrasting his ideal for architecture that connects people to a broader story and the land with the modern American reality of homogenized suburban sprawl.
After the presentation, Price (as he has done with groups of students in many amazing parts of the world) led our team in building a structure that is a metaphor for a given story—in this case, the story of our train journey. The material we had to work with was bales of hay, which we arranged into a linear structure that is entered through a sideways "doorway" (representing the leap of faith that it took for many of us to step over a threshold and decide to undertake this trip), winds through an area with facing seats (made of hay bales) that invites conversation (as a train does), and ending in a window looking on to the adjacent BNSF Railway freight yard, symbolizing both the horizon and the aspirations we look forward to as we travel east.

The evening ended with a pool party at a swimming pool made from shipping containers (the only such pool I have ever seen), also overlooking the BNSF yard, as well as the distant Front Range of the Rockies (over which shone a brilliant sunset) and the Denver skyline. Over locally-brewed Great Divide beer and Infinite Monkey Theorem wine, trip participants conversed with many leaders in the local entrepreneurial and sustainable business scene.

Tomorrow, after starting the day with a talk from a representative of the American Sustainable Business Council, we will have time to work on our own projects. I look forward to exploring Denver's newest light rail line and having lunch with NARP Councilmembers Jim Souby (also the President of the Colorado Rail Passenger Association) and Jay Jones.
-- Malcolm Kenton
"On behalf of Amtrak's onboard service staff, I want to thank the Rail Passengers Association for honoring their hard work with this award. The past couple years have indeed been difficult for Amtrak onboard service staff – coping with furloughs and job insecurity, adapting to changing protocols and services, not to mention the unfortunate events such as a tragic derailment and a fatal shooting. Nevertheless, our dedicated members at Amtrak have handled these hurdles with the care, attention and diligence for which they're known. We thank Rail Passengers for their acknowledgement of our members' hard work and, as always, look forward to seeing you on the rails."
Arthur Maratea, TCU/IAM National President
December 21, 2021, on the Association awarding its 2021 Golden Spike Award to the Frontline Amtrak Employees.