Happening Now
2013: Holding the Line While Building for the Future
Written By Colin Leach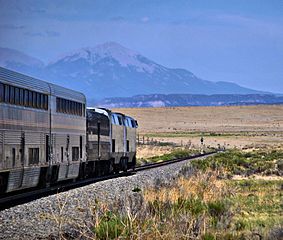 For rail advocates, 2013 began under a cloud of uncertainty. However, thanks to the tireless work of NARP members across the country, 2013 witnessed many key victories that will serve as a basis for expansion and growth in 2014.
Washington's perennial fiscal and political woes aside, 2013 was a particularly important year for rail advocates due to the coming into force of the 2008 Passenger Rail Investment and Improvement Act's Section 209. Section 209 mandated that, effective October 1st, state governments were required to take over the operating grants for all Amtrak routes under 750 miles (excluding the Northeast Corridor) a state could not reach an agreement with Amtrak, then the train in question would be discontinued.
At the beginning of the year, many advocates were concerned about the ability of states to find additional funding in tight times. Frank Wilner's February column in Railway Age expressed worries that some states might choose to discontinue the services rather than covering the subsidy, believing the trains to be an extravagance in a time of tight government budgets.
But fortunately, these fears were unfounded. We are pleased to note that every state required to cover the subsidy under Section 209 did so. That means that trains such as the Empire Corridor services between New York and Buffalo, thePennsylvanian between New York and Pittsburgh, the Hoosier State between Chicago and Indianapolis, and the Cascadesbetween Vancouver and Portland will remain in service. At a time when opponents of passenger rail look for every opportunity to oppose it, whether in the courts or in Congress, we should appreciate that the unanimous continuation of Amtrak's state-sponsored trains is no small feat.
NARP has been at the forefront of these efforts. We've testified in Congress and written to state governors, urging policymakers to take action to support our nation's passenger rail network, and we will always continue to do so. But we could not have done this without the hard work of our dedicated members across the country. Day after day, our members flooded lawmakers' offices with calls, emails, and letters expressing support for passenger rail. Whether they defended long-distance trains such as the Southwest Chief or the smaller state-supported routes, our members have spoken loud and clear: passenger trains aren't a luxury, they're a necessity.
Let's take a look at two particular cases where NARP members made a tremendous difference. In Pennsylvania, thePennsylvanian is the only daily train connecting communities between Harrisburg and Pittsburgh to points east. Governor Tom Corbett's administration threatened to cancel the train, citing ostensibly low ridership. Western Pennsylvanians for Passenger Rail, a proud NARP affiliate, organized rallies to show public support. These rallies, held at Huntingdon andLewistown, attracted concerned citizens as well as local lawmakers. In response, the state backed down from its earlier threat and agreed to fund the train for at least another year.
In Indiana, action by NARP members also helped to save the Hoosier State between Chicago and Indianapolis. During budget discussions, the Indiana House of Representatives proposed to discontinue the train, also claiming insufficient ridership. In response, concerned Hoosiers, including many NARP members, organized an "Amtrak Summit" on August 21st to express support for the Hoosier State. Rail advocates joined forces with state lawmakers, environmental groups, and even the Student Senate of Purdue University (whom we recognized with an award for their role) to make a firm case for the train's continued operation. Public pressure obliged Governor Mike Pence to direct the Indiana Department of Transportation to fund the train for at least another year, ensuring that Hoosiers will continue to have more travel options.
The answer is clear: Americans want to keep the trains they have, and want more in the future. Despite predictions of discontinued trains, all of the state-supported routes have survived. And more and more Americans are realizing the value of passenger trains in their communities, as witnessed by the tremendous attendance at rallies and growing volume of calls, emails, and letters.
We can't rest on our laurels. While we can take heart in this year's victories, we must recognize that challenges always remain. That's why NARP is currently fighting, in conjunction with our friends at ColoRail, to save the Southwest Chief'spresent route through Kansas, Colorado and New Mexico. The Chief serves many rural communities that have no other intercity passenger transportation options; loss of the present route would greatly harm these communities. And, as always, you can count on us to be your voice in Washington, responding to passenger rail opponents' bizarre and faulty claims.
But we would not be able to do anything without YOUR help. There are only two days left to give a tax-deductible gift in 2013. Your steadfast support of passenger rail and your willingness to share this support with your elected representatives is what keeps our organization alive. It's what makes our voice in Washington resonate loud and clear across the country.
From all of us at the NARP office, THANK YOU! And here's to a 2014 that will see us move closer to our vision of more and better passenger trains.
"It is an honor to be recognized by the Rail Passengers Association for my efforts to strengthen and expand America's passenger rail. Golden spikes were once used by railroads to mark the completion of important rail projects, so I am truly grateful to receive the Golden Spike Award as a way to mark the end of a career that I've spent fighting to invest in our country's rail system. As Chair of the Transportation and Infrastructure Committee, it has been my priority to bolster funding for Amtrak, increase and expand routes, look to the future by supporting high-speed projects, and improve safety, culminating in $66 billion in new funding in the Bipartisan infrastructure Law."
Representative Peter DeFazio (OR-04)
March 30, 2022, on receiving the Association's Golden Spike Award for his years of dedication and commitment to passenger rail.